Since our establishment in 2000, we have stood for exhaustive, staunch hands-on support as we have focused our investments in small and middle market Japanese companies. The buyout investment group has successfully improved business results at a number of portfolio companies, while the solution investment group has continued to provide solutions such as providing liquidity for illiquid stocks and realigning the capital structure of businesses. At Ant Capital Partners, we believe that providing the kind of support that the management and employees of our portfolio companies are quite happy to receive ultimately leads to the maximization of investment returns.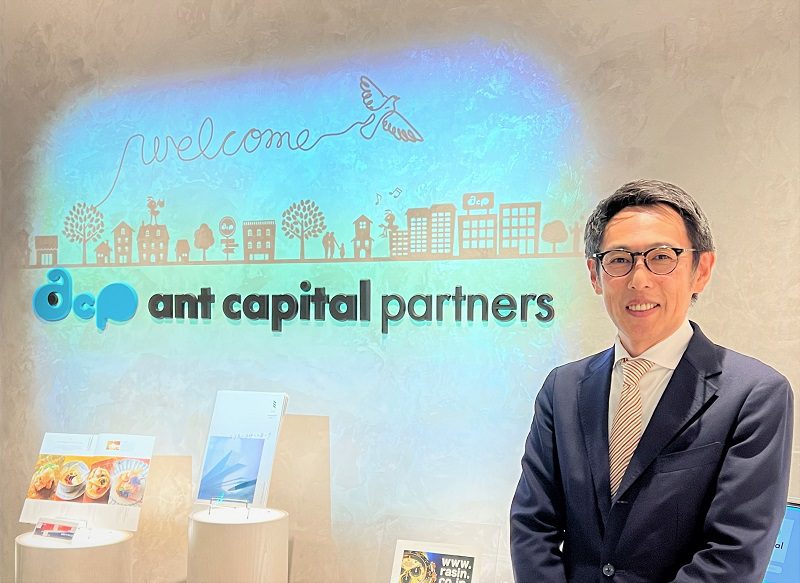 A team of professionals focusing on small and middle market companies
Small and medium sized enterprise are said to represent more than 99% of Japanese companies. It's not an exaggeration to say that the lion's share of Japan's GDP is the fruit of the tireless efforts of small and medium sized enterprises. The diversification of supply chains and the globalization of target markets are happening faster and faster. In this kind of environment, many small and medium sized enterprises are unable to demonstrate their full potential and break free of the stagnant domestic market because they lack personnel with international skills, experience in overseas operations, and the necessary capital. Furthermore, as the management ages, succession is becoming a major issue for businesses. Companies have been slow to implement an organized business structure that doesn't depend on the founder alone, which is increasingly becoming an obstacle to a smooth transition to the next generation managers. Ant Capital Partners has exhaustively examined the various issues confronting small and medium sized enterprises, and has been executing a strategy of raising the enterprise value of our portfolio companies to ensure a high level of returns by providing staunch hands-on support and assistance in realigning capital structure, which we have continued to conduct since our inception. The members of our investment team not only provide advice based on their specialized financial expertise and experience; in almost all cases they have also helped companies improve earnings and boost enterprise value by working at the portfolio company and becoming deeply involved in its business operations. We are investment professionals, but at the same time we aim to be a team of management professionals with each of us having superior business execution capabilities.
Committed investment managers
Sometimes, support that only goes as far as providing management advice as an outside director through conduits such as the board of directors is called "hands on." However, the "staunch hands-on support" provided by Ant Capital Partners does not consist merely of advice. Our investment managers tackle each deal with passion and commitment, and, whenever necessary, we work alongside a company's management team and devote ourselves to the management of the company's businesses. In buyout investments, after making the investment, we work with people at the portfolio company to establish precise key performance indicators (KPI), and then provide coaching to transform the corporate culture into one in which these KPIs are recognized by everyone and discussed in making business decisions, allowing the PDCA cycle to permeate the entire organization. Ant Capital Partners managers become completely integrated into the workplaces of the portfolio companies, lending their efforts to provide business support. As a result, when we exit an investment through a sale, it is not uncommon for us to receive positive comments from the portfolio company or the new shareholders regarding the extensive support that we had provided through our unusually deep level of involvement in that company. This exhaustive, staunch hands-on support is one reason that Ant Capital Partners has been able to realize such a strong investment returns. In solution investments, we are dedicated to providing management support that is based on a strong relationship of trust with the portfolio company's management team. Conscientiously devising and presenting solutions one-by-one for the broad array of problems and issues facing the founder and the management team is our strength and the area in which Ant Capital Partners excels. At Ant Capital Partners, with the longest history in solution investments in Japan as well as a record of recouping many investments, we see it as our mission to not only offer our problem-solving abilities to founders and portfolio companies in regards to succession issues, addressing globalization, correcting or realigning the shareholder mix , but also to provide investors with the best investment performance.
We take pride in our wealth of experience as investment professionals
Since establishing the Catalyzer No. 1 buyout fund in 2001, Ant Capital Partners has established a track record through numerous private equity investments. We have also learned much from those cases that have led to tough experiences and painful results. Because we have had failures as well as successes, we have strengthened the screening process, sharpened our insights into ascertaining candidates for investment, improved our research and evaluation capacities, enhanced our management support system, and our investment managers have been able to hone their individual investment skills. Investing is a business of experience, and we believe that it is only possible to provide the appropriate and effective business advice and hands-on support by playing for keeps in each and every investment. Through our private equity investment activities, we at Ant Capital Partners hope to contribute, even in a small way, to reviving Japanese industry and getting the Japanese economy on track again by helping our nation's small and medium sized enterprises to make great strides as global companies active on the international stage. We take pride as professionals in private equity investing and we aim to be the best at it.
Representative Director and President
Ryosuke Iinuma