Support for Promoting Future Growth
Ant Capital Partners provides current and potential portfolio companies with the necessary support to promote their business in Asia to support their future growth.
Hands-on Support for Portfolio Companies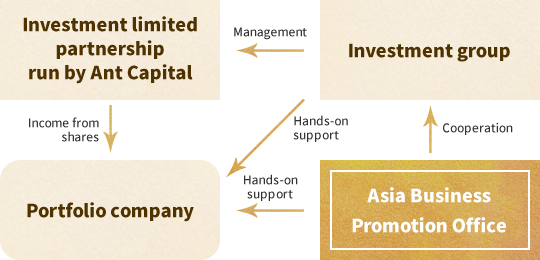 Support for portfolio companies to cultivate overseas markets
Support for overseas business management
Discovery of overseas business partners for portfolio companies
Support for overseas business operations
Other Consulting Services

Referral and cultivation of partner companies
Support for incidental operations (referral of and collaboration with lawyers, accountants, etc.)
Case Studies
We provided support to a company in which a Chinese company became a shareholder to ensure smooth communication and operations so that no communication gaps arose between the Chinese and Japanese sides. We established a regular meeting between the Chinese shareholder and the Japanese executives and supported thorough discussions, providing careful explanations of differences in culture and customs as necessary.
As a result of these regular meetings, the cultural barrier was overcome, promoting open communication between the Chinese shareholder and the Japanese executives and contributing to expansion of the business.
When a certain restaurant was expanding franchise operations in Asia, Ant Capital made efforts to protect the brand and intellectual property rights. By maintaining direct contact with franchise owners and providing feedback to the company, we strengthened communication and developed a relationship of trust, which led to an increase in sales.
We provided support for launching an overseas subsidiary and hiring management personnel.
Moreover, we provided hands-on support for local operations, including local procurement of ingredients, price negotiations and signing of contracts, which allowed for successful expansion of the network of restaurant locations.
We provided support for global market expansion centered on China and setting up operations in Southeast Asia which they had not yet gotten to.
Meanwhile, Chinese inbound demand was surging in Japan. For example, we provided support for advertising and PR utilizing social network services, mobile apps and other online media, improving name recognition in China and leading tourists to their stores when visiting Japan.
Recently, we have been providing support in Japan for procuring materials that are increasing in demand from overseas. We also established a system to control costs (especially tariffs) and arranged meetings with lawyers and other specialists in Hong Kong and mainland China as necessary.
When a certain automotive parts manufacturer was setting up operations in China (establishing a sales base), we provided explanations and advice on the advantages and disadvantages of the different forms of operations in China, and when it came time, we provided support for establishing a Chinese and Japanese joint venture together with a local partner law firm that is well-versed in Chinese and Japanese business.